- Complete Product Family is mechanically exchangeable
- Versatile and universal product specifications will meet most requirements:
Lifetime -Brightness, IPS, Touch, Cover Lens
- High Quality - Industrial Standard
- Low MOQ – 500pcs
- Competitive selling price
- Longevity support
Potential value add by customization (@MOQ=1K):
- Optical bonding between TFT and CTP
- Surface coating treatments (AG or LR+AF)
- Customized C/L
- Customized FPC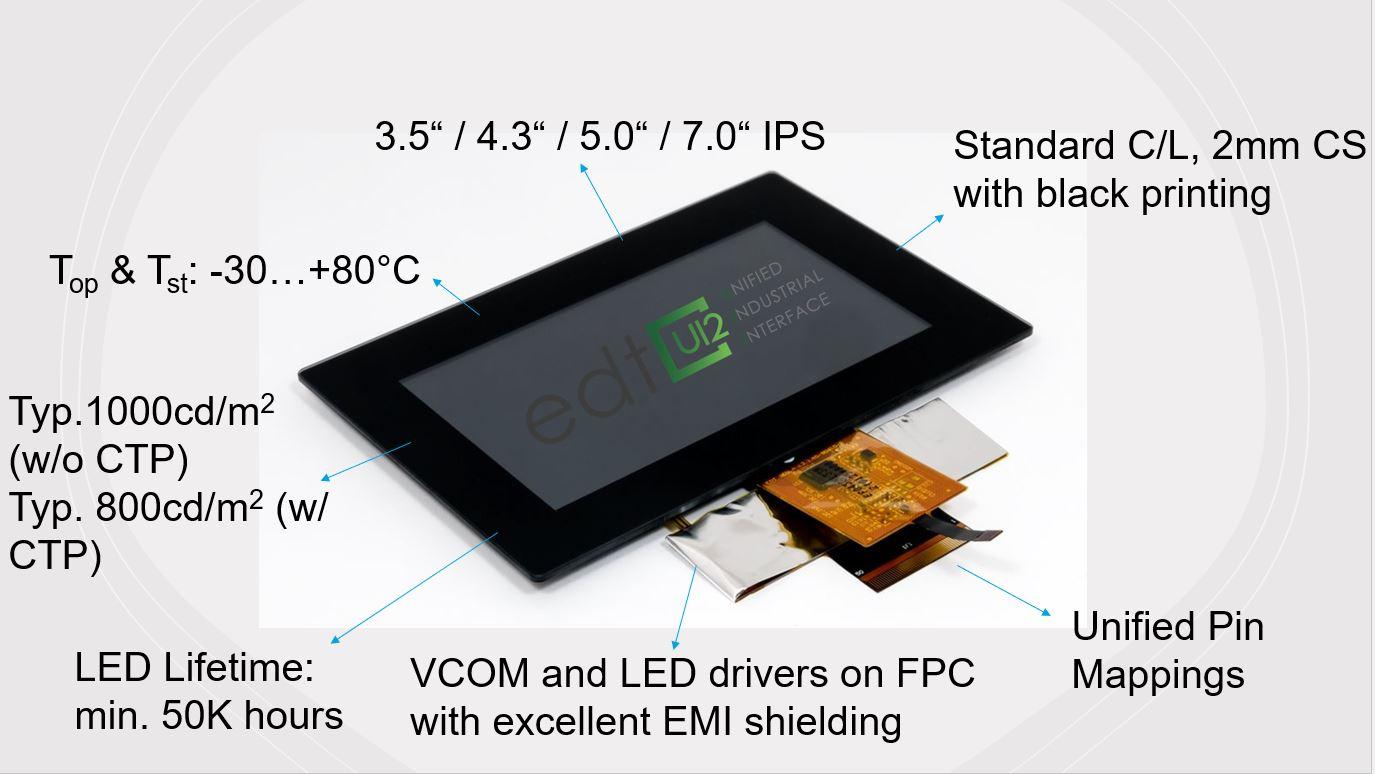 The family currently consists of four display sizes: 3,5" – 4,3" – 5" – 7".
All members of the family use IPS* Panels and this technology ensures excellent readability from every angle. In combination with the extended operating temperature range from -30°C to +80°C, the modules are versatile, whether in the handheld, medical or industrial area.
Due to the built-in high-performance LEDs from the automotive sector, the displays achieve a brightness from 1.000 nits with a half-life** of 50.000 hours. This allows you to operate the displays for more than 17 years, 8 hours a day with full brightness before it reaches only half of its original brightness. The backlight brightness can be easily adjusted via a PWM pin and thus the lifetime can be extended.

For EDT, it was important to simplify the design of the display. That is why they generate all required voltages directly on the FPC tail. The backlight driver has already been integrated too. Therefore, the "annoying" provision of several voltages is a thing of the past. The selected FPC design saves the additional attaching of a board to the back of the display and avoids an unnecessary heightening of the modules.
Unlike many other displays, their sophisticated 50-pin interface provides enough ground lines to connect the display with low impedance to the application. An additional metal plate on the FPC back, a conductive coating as well as an intelligent line guidance also optimize the EMC behaviour of the displays.
Long-term availability, basically, there is no 100% guarantee that a TFT or component will not be discontinued at some point. In the end, too many sub-suppliers are involved in the process. However, EDT reduces the risk by the always constant "frame parameters" of a pin assignment and FPC position. This allows them to offer a suitable successor in the event of termination. In addition, with their official End of Life (EOL) statement, EDT are committed to continue the production for up to 3 years after the EOL notification has been announced. This gives you plenty of time to put the successor through its paces before using it.
All modules of the UI2 family are also available with Capacitive Touch Panels (CTP). EDT decided to provide the high-quality standard touch module with a 2mm thick, chemically hardened overhanging and black-printed cover lens. This will make it easier for you to implement the display for small series. A customized cover lens design is possible from 1k per module size.
*IPS - In-Plane Switching
** Half-Lifetime - This means that the LEDs can continue to operate after consumption of the specified lifetime, even though with less intensity.

---