The Sentrius™ RS1xx is a battery powered, long range integrated temperature and humidity sensor equipped with LoRaWAN and Bluetooth Low Energy (BLE) connectivity. Its small, rugged form factor contains superior performance and flexibility.
At its core, the RS1xx utilizes Laird's field-proven and reliable Sentrius™ RM1xx module hardware. It also works with Laird's Sentrius™ RG1xx Series of LoRa / multi-wireless gateways for simple out-of-the-box integration and is compatible with 3rd party cloud providers such as AWS IoT and LoRa network ecosystem partners.

Easily Integrated with Amazon Web Services
Our customers benefit from our collaboration with Amazon Web Services (AWS), which combines the power of the cloud with the simplicity of Laird solutions, providing an end-to-end, customizable sensor network that gives customers full control and management of their data. Combining wireless hardware like the Sentrius RS1xx LoRaWAN-enabled sensor with Aws IoT Analytics allows Laird's customers to quickly deploy cloud-connected sensor networks and easily run sophisticated analytics on massive amounts of IoT data without having to worry about the cost and complexity typically required to build IoT analytics platforms.

Real World Success
ComplianceMate partnered with Laird to supply and support SentriusTM RS1xx sensors and RG1xx gateways for their newest food safety compliance and temperature monitoring product range. Laird supplied and supported this robust, high-performing LoRaWAN ecosystem which gives businesses real-time insight into temperature and humidity readings. Sensors are placed inside coolers, freezers, or any location in a kitchen and constantly transmit accurate temperature data to the cloud. Businesses access that data online from a dashboard at any time or place, and real-time notifications are sent when temperatures are too high or low or when checklists are not complete. This enables quick correction to avoid perishable product loss.
Endless Applications
The Sentrius™ RS1xx makes long-range wireless sensors practical for even the most challenging applications. It leverages long battery life and an onboard microcontroller to bring wireless sensors to an endless variety of use cases, such as greenhouses, industrial equipment, smart irrigation, storage, asset management, and more. Own the entire network and bring sensor data to the cloud with Laird's RS1xx Series.
Cold Chain Monitoring
The RS1xx is a cost-effective solution for the harsh RF operating world of refrigerators, cold stores, and freezers. Monitor and protect your products from spoiling wherever you are with Laird's RS1xx LoRaWAN based temperature and humidity sensors. Maintaining optimal temperature of your food or pharmaceutical supplies is crucial in preventing costly spoilage. Laird's wireless temperature monitoring solutions provide a reliable and affordable way to ensure your coolers and freezers are working properly, providing automated, real-time monitoring and reporting with digitized capture and reporting of operational activity.
Agriculture
Deliver mission critical wireless M2M communication networks tailored to the needs of agricultural applications like greenhouses and crop storage that require specific environmental conditions. Crops can be lost if the mixture of temperature and humidity are incorrect. Working with Laird means saving time and resources. Streamline workflow efficiency, increase productivity, and avoid perishable product loss or damage across all of your assets, wherever they are. Automated systems track conditions for you and send real-time alerts before small issues become big, expensive problems.
Industrial Heating and Cooling
Maintaining specific temperatures can sometimes put heating and cooling systems to the test. Heating and cooling units are constantly at risk and can be costly to repair if failures are not caught in time. Laird's RS1xx provides a solution for monitoring multiple aspects of HVAC systems and will alert you of any issues in real-time.
---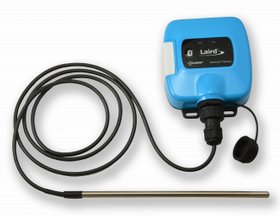 Sensor with external port and cabled temperature probe!
The Sentrius™ RS1xx temperature and humidity sensor enables battery-powered, local and wide-area sensor applications using LoRaWAN and Bluetooth 4.2! The RS1xx is a small, rugged, and easily-configurable sensor device that makes it easier than ever to monitor environmental data with your own network of sensors.
Powerful and power-conscious, the RS1xx can be configured to transmit infrequently and last for years on the same set of two replaceable AA batteries. This means minimal maintenance, a network you can deploy and depend on.
Easily create a sensor network that provides miles of coverage, easily configurable via a smartphone or tablet. Connect to an existing LoRa network, or combine with our RG1xx gateway to own your own end-to-end sensor network. Do it all with confidence, leveraging Laird's decades of wireless design into the most reliable, customizable, and high-performance sensor network available.
New sensor with external temperature probe allows you to mount the sensor outside a device and measure the temperature inside via the cabled sensor. The external temperature probe features a sturdy construction that supports a wider temperature range.
Specifications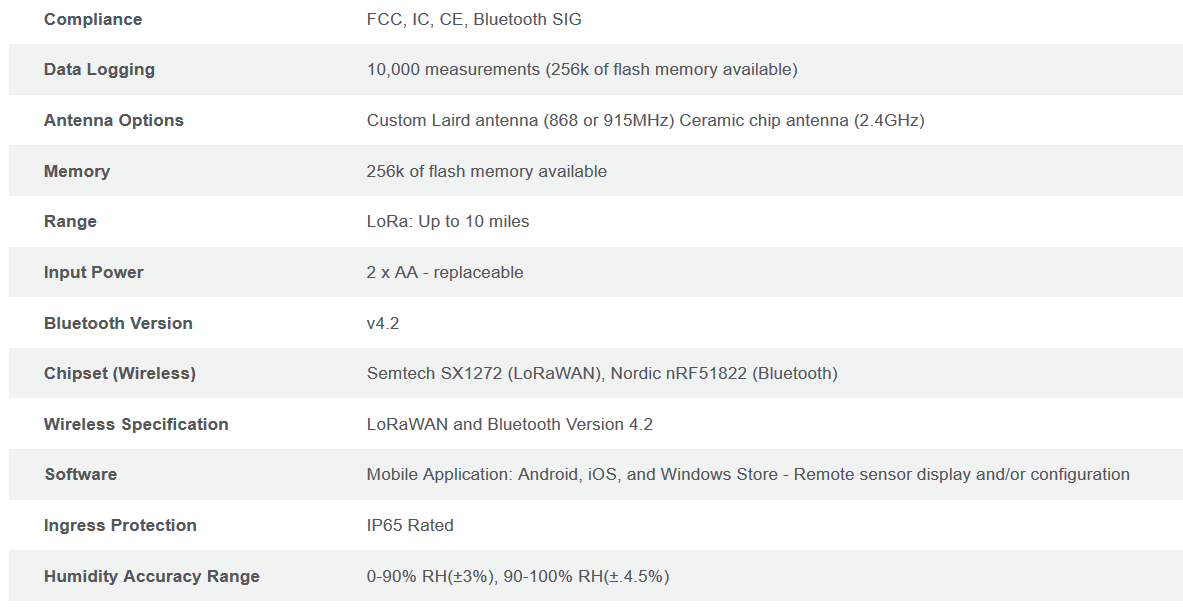 ---