Smart Embedded Modules enables the user to add High End Graphics to any product in a very short time. The modules are highly integrated providing all necessary components to control the Display, the Touchscreen as well as the many Interfaces, with low power consumption.
7-36Volt Input range
RS232, RS485, CAN, USB OTG, I2C, SPI, GPIO, LAN
SDRAM Framebuffer memory, Flash memory for Graphics
TouchGFX Graphic Framework for High End Graphics
Customizable to fit your exact needs
Smart Embedded Product Overview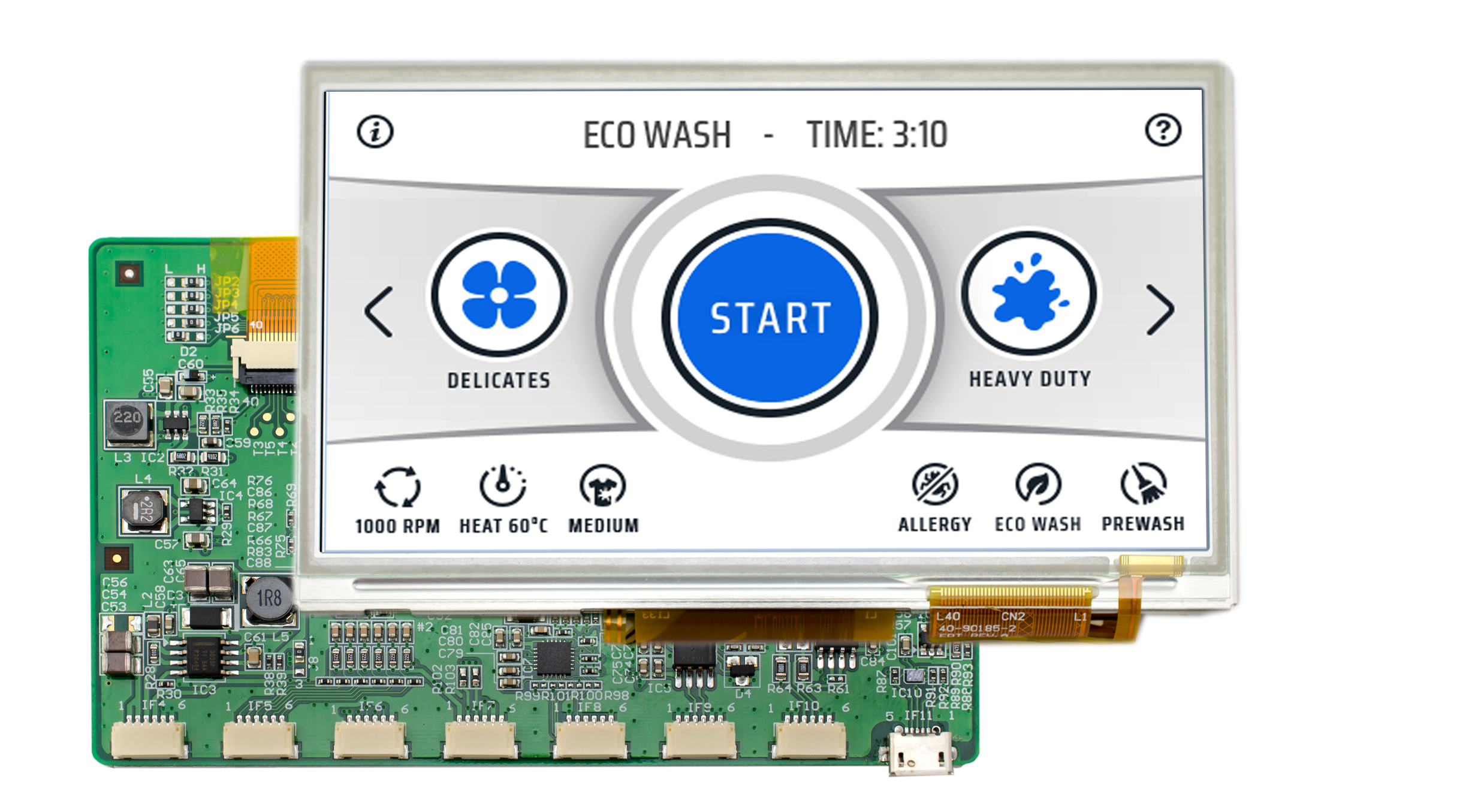 With TouchGFX you can easily create new modern GUI
TouchGFX is an advanced free-of-charge graphic software framework optimized for STM32 microcontrollers. Taking advantage of STM32 graphic features and architecture, TouchGFX accelerates the HMI-of-things revolution through the creation of stunning, smartphone-like graphic user interfaces.
The TouchGFX framework includes the TouchGFX Designer, an easy-to-use, drag-and-drop-based graphic-building PC tool, and the TouchGFX engine, a powerful and optimized graphic core.
TouchGFX makes GUI development easy, combining WYSIWYG simulator and automatic code generation. It covers all steps from early design sketches to exclusive end-products, through quick iterations over finished prototypes.
TouchGFX Designer is available as a standalone software tool, allowing easy and fast graphic evaluation and proof of concept. The TouchGFX framework, including TouchGFX Designer, is distributed within STM32Cube MCU Packages. It is fully compatible with the STM32CubeMX initialization and code generation tool for the seamless co-development of graphic and main application in an unified project environment.
All features
Structure: easy creation of multiple screen contents and associated transitions
Widgets: wide selection of customizable widgets, such as a swipe container and cycle progress, for effortless GUI creation
Skins:

Set of ready-to-use graphical skins enabling consistent prototyping with no need for a graphical designer
No restriction to the use of custom graphics



Interactions: dynamic interactions for the creation of user-friendly applications
Custom container:

Creation of custom reusable application control
Easy platform development with unified look and feel



Text handling:

Fonts and typographies specified and managed in one single place
Full translation service
Full support of multiple alphabets and scripts such as Latin, Cyrillic, Arabic, Chinese, and Japanese



Code Generation:

TouchGFXDesigner generates and maintains performant C++ code
Tool-generated code entirely separated from user code
All types of code extensions possible for unique animations as well as system interconnections
Support of several integrated development environments such as IAR Embedded Workbench, Arm Keil, and GCC-based IDEs
---