RM1xx modules aggregate and transmit data from Bluetooth® Smart (BLE) devices and sensors over LoRaWAN to gateways as far as 15 km (~10 miles) away. This bridges the personal area network to the wide area network in a unique way. The Sentrius RM1xx will be LoRa® Alliance certified and fully interoperable with any LoRaWAN™-adherent gateway.
Designed for the EIoT – Innovative combination of BT™ v4.0 and LoRa® makes the RM1xx the bridge between Bluetooth Smart devices and a network that intelligently uses their data.
Ultra-low power usage schemes – Allows years of use on a single battery.
Laird's unique smartBASIC language – Makes it extremely easy to create event-driven, hostless applications.
Upgradable firmware – Prepare for the future with access to feature and security updates.
Compliant with FCC, CE regulations – Available as the RM186 (CE) or RM191 (FCC).
Features
NEW: Firmware available in either BLE Central or BLE Peripheral variants.
AGGREGATE AND UTILIZE EIoT DATA WITH BLE + LoRaWAN
Enables automated, intelligent monitoring and control of BLE devices, creating scenarios that were previously impossible.
BRIDGE TO LPWAN YOUR WAY
Combination of physical and wireless interfaces including: Bluetooth v4.0 (BLE Central or Peripheral), physical UART, SPI, I2C, GPIO, or ADC.
COMPREHENSIVE, MULTI-LAYER ENTERPRISE SECURITY
Robust security on either public or private LoRaWAN networks, with three layers of keys and AES-128 encryption.
SPEED TO MARKET WITH smartBASIC
Easily write event-driven apps for any use case.
BASED ON AWARD WINNING BL6x0 SERIES
Includes Whisper Mode for proximity pairing, low power BLE operation, and onboard microcontroller for hostless operation.
PERSONAL SUPPORT FROM DESIGN TO MANUFACTURE
Support works onsite with Laird engineering to speed your design to market.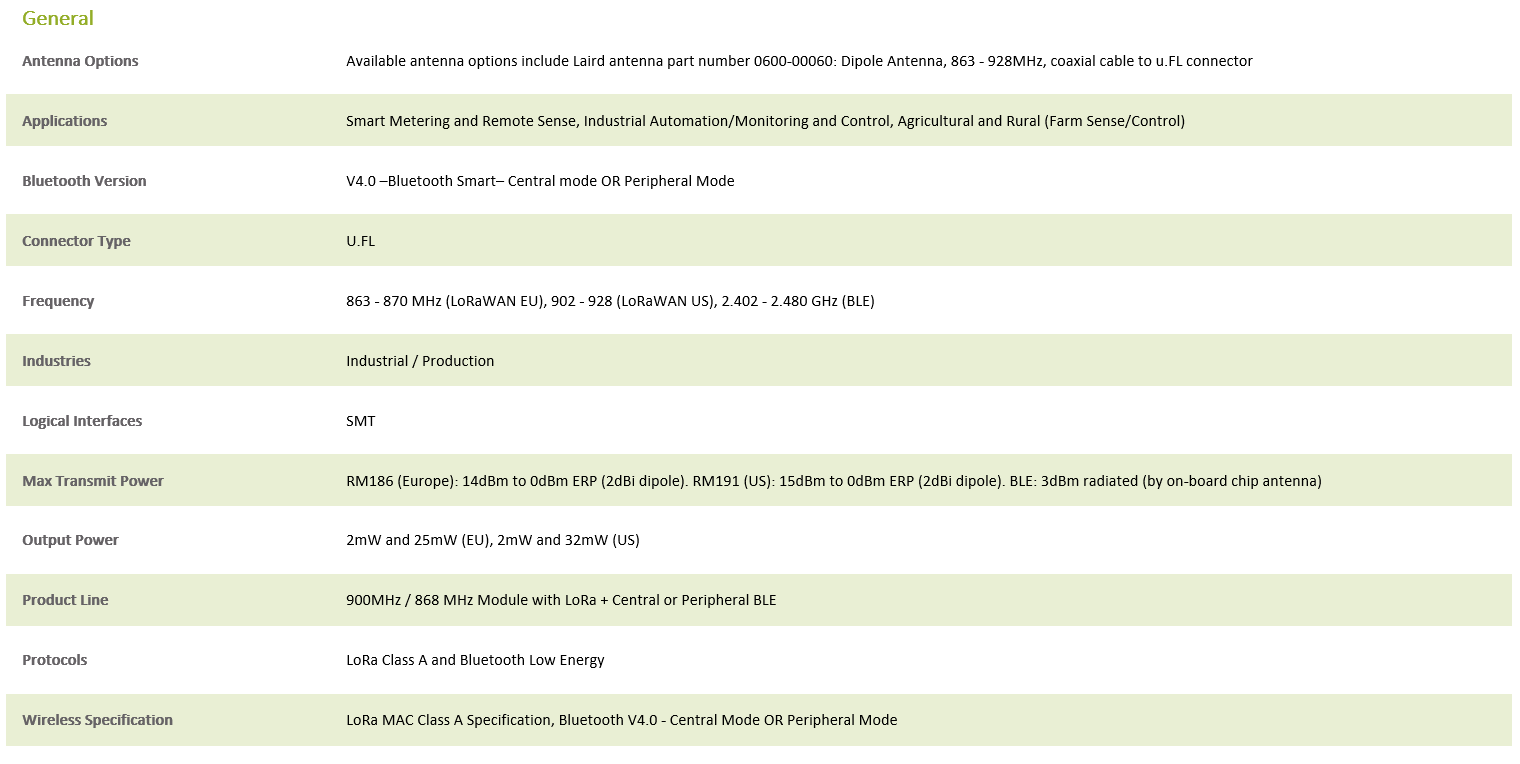 ---