MODUS 3 - Small footprint kiosk printer
Ultra compact thermal printer to meet the needs of slim-line kiosks without sacrificing features and functionality. MODUS 3 joins all the features of a self service printer with an inimitable compactness (116Lx50Dx62H), is super-light (only 400g) and full opening lid, easy to inspect mechanism, guarantees easier maintenance.

Ultra-compact the smallest footprint kiosk printer on the market
Flexibility extended working temperature and adjustable paper width
Easy intergration (plug&play) in all self-service applications
Advanced paper management exclusive anti-jan system, total and partial cut
Max control setup the printer or draw up a ticket layout with our apps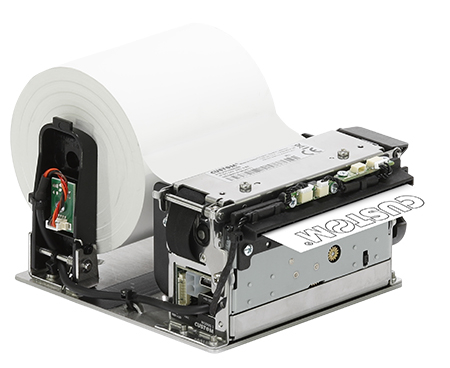 TG02H - Extremely compact and versatile ticket printer
Extremely compact and versatile ticket printer, for easy installation and panel mounting. TG02H isavailable with black plastic bezel.
Best quality print quality (200 DPI)
Paper width: 57mm
Printing > 80 mm/sec
Up to 90mm paper roll diameter
RS232 + USB interfaces (serial TTL with welding )
Highly reliable tear off system
Sensors: head temperature, paper presence, near paper end, anti-jamming
Power supply: 12V and 24V
CHARACTERISTICS
1D/ 2D (QRCODE) barcode printing feature
International fonts on-board: any language available
Patented anti-jamming system
Outdoor applications: 20/+ 70°C operating temperature
Low power consumption in stand-by mode
Roll holder included

APPLICATIONS:

Gaming machines
Queue management systems
Vending machines
Self-service kiosks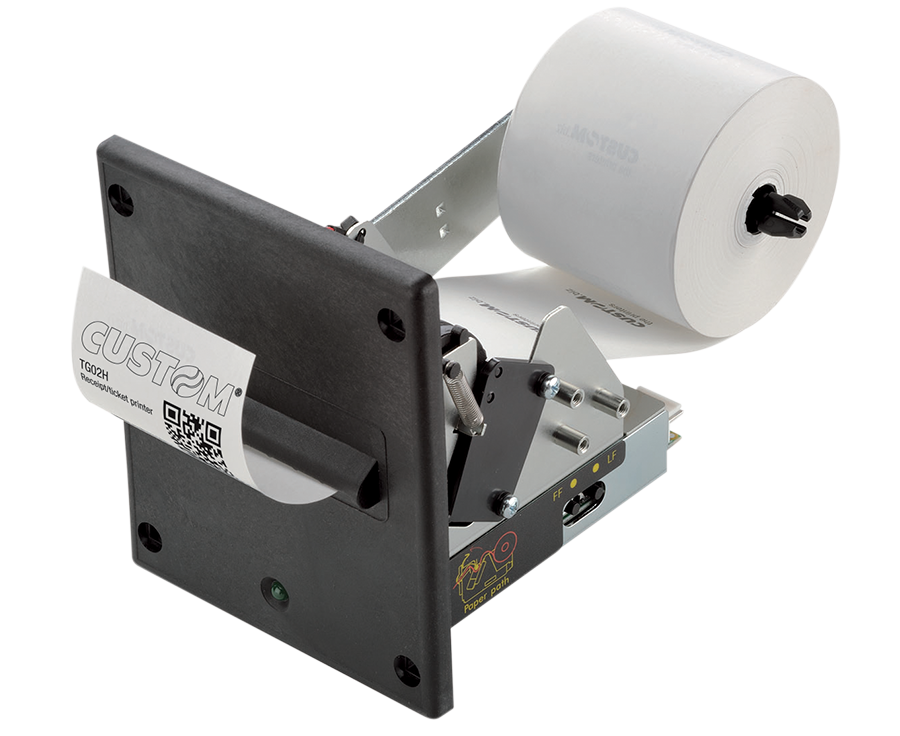 VKP80III - Top seller kiosk printer with a unique green paper mouth
VKP80III is a kiosk printer for receipts and tickets, top seller and reference product in more than 70 countries in the world. Compact, flexible and sturdy it's also full of features, such as the high performing processor and the long-lasting printing head. It's suitable for any kind of kiosk, thanks to the adjustable roll holder and the possibility mount it on both sides, overall 6 different positions. VKP80III is equipped with a patented anti-jamming system with printer cleaning command and jamming removal, illuminated bezel and paper presenter with eject/retract function, with the possibility to work also in the fiscal markets thanks to a dedicated model.
Rich in technology: present/eject/retract full capability
Extremely compact and flexible way to answer of customer needs
Anti-Jamming system with printer clean command and jan removal
LOWEST TOTAL COST OWNERSHIP: RELIABLE AND ROBUST WITH LESS THAN 0.5% OF FAULTINESS
PRINT HEAD WITH AUTO-DIAGNOSTIC FUNCTION AND ECOGREEN MODE USEFUL TO REDUCE CONSUMPTION
CHARACTERISTICS
The most compact high-end/top of the range kiosk printer with small footprint: 116 × 143 × 76 MM
Paper roll (up to 250 mm with optional roll holder)
Paper width from 50 to 82.5 mm
Speed > of 250 mm/s
Multi-Position paper roll holder (3 positions for both sides)
Ergonomic paper loading from the right or left side, suiting all kiosk designs
RS232 and USB 2.0 full speed interface (ETH and USB version available)
1D / 2D barcodes printing capability (PDF417, DATAMATRIX, AZTEC, QR CODE)
International fonts on board: Any language available
Long life printing head (200 KM)
Highly reliable cutter: > OF 1,000,000 cuts
Illuminated paper bezel
Outdoor applications:-20/+70°C working temperature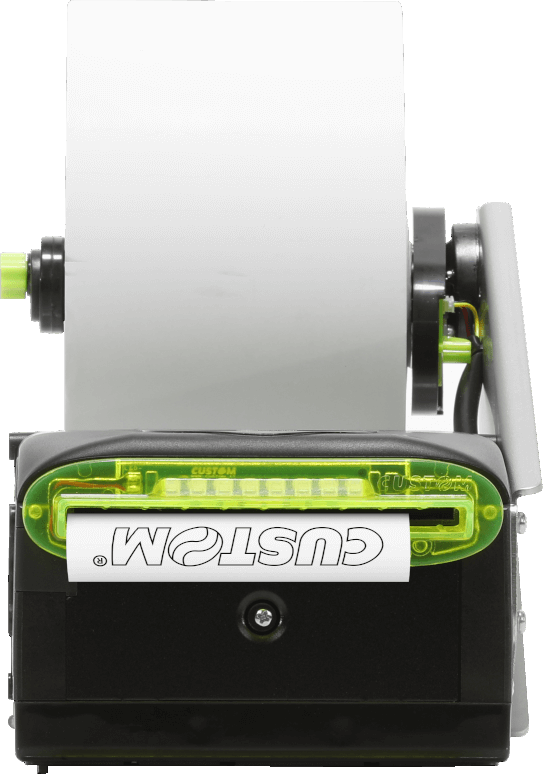 KPM862 - RFID ticket printer for OEM integration
KPM862 is the ultra-compact, flexible and sturdy top-of-the-range ticket printer.
Thanks to the adjustable paper guides (ticket width from 40 to 86mm) KPM862 is extremely versatile.
It is available in 2 versions: with dual feeder, thanks to which it is possible to manage 2 different types of paper and with Veriprint, a patented Custom system that can instantly check the readability of the data (e.g. barcode) during the ticket printing phase and thus avoids the issue of tickets with dubious validity. KPM862 can be equipped with original CUSTOM HF / UHF RFID antennas, an exclusive CIS sensor, with whom you can read any type of ticket and ensure the alignment. Ideal for modern kiosks with a slim design, less moving parts (cost reduction) and full ticket scanning.
Ultra-Compact and top-of-the-range ticket printer
Adjustable and versatile paper guides, with dual feeder
It detects black mark and gap without manually adjusting the sensors
Stock control activable with an on-line license
Sturdy and resistant thanks to the metal structure
CARATTERISTICHE
Ticket width from 40 to 86 mm
Ticket thickness from 70 to 255 GSM
Print speed 220 mm/sec
Roll dimensions max 300 mm
USB / ETHERNET / RS232 interfaces
203 DPI resoslution
Head life 100KM / 100M pulses
MCBF 1,500,000 cuts
24 VDC ± 10% power supply
Operating temperature -20 ° C + 60 ° C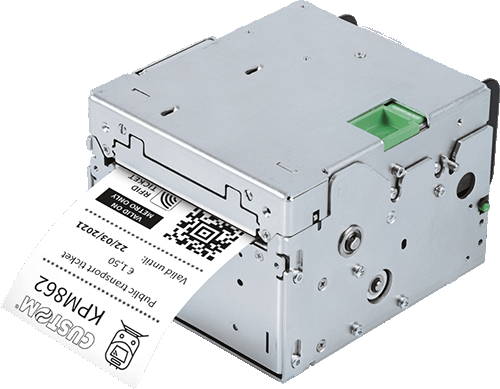 KBR2D - Kiosk Barcode Reader
KBR2D is the family of barcode scanners designed for self-service kiosks, ATMs, price checkers, healthcare and for any OEM application, also available in a plastic case version (KBR2D-C). KBR2D is a high-performance, high-volume omnidirectional scanner, capable of quickly and accurately reading any 1D and 2D barcodes, whether printed on paper (badges, receipts, health bracelets) or displayed on the screen of a smartphone or of a tablet. KBR2D scanners are based on CMOS technology for optimal image sensitivity and dynamic range. KBR2D integration is quick and easy thanks to several mounting options.
CHARACTERISTICS
Easily integrated with various OEM applications
1D and 2D barcode scanning
Omnidirectional scanning: no need to align barcode and scanner, ensuring user comfort and protecting productivity
Long distance reading from 3 to 28 cm without problems even in direct sunlight (100,000 lux)
Reading barcodes on screens of smartphones or tablets even with brightness reduced to 25/30%
Red colored pointer for precise aiming and optimal barcode acquisition
Flexibility: various external mounting options or internal screw holes
Integrated decoder
Custom ScannerSet configuration software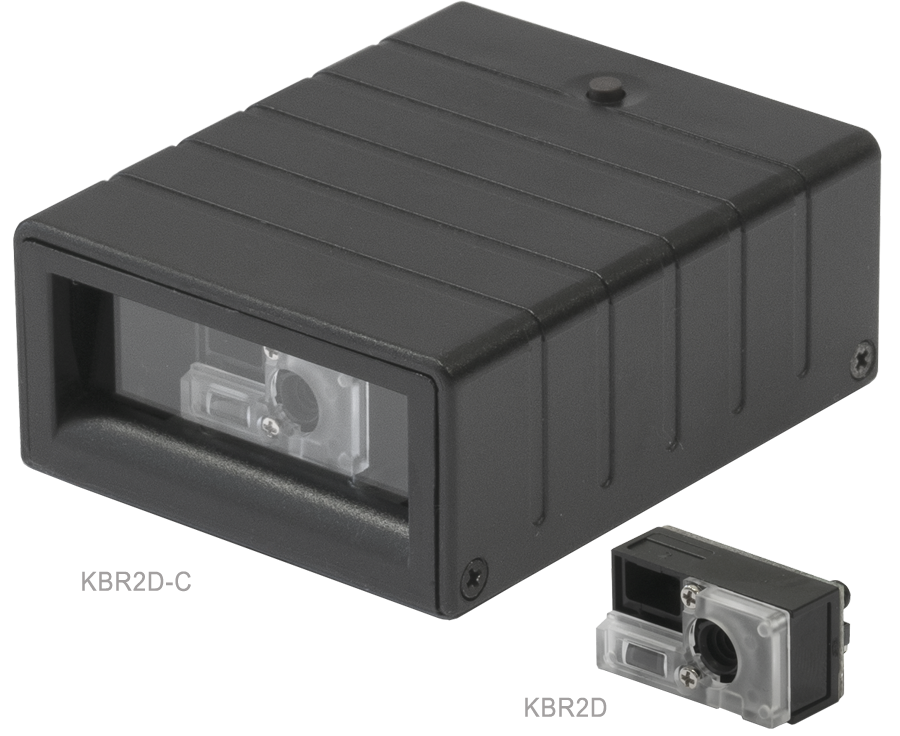 ---